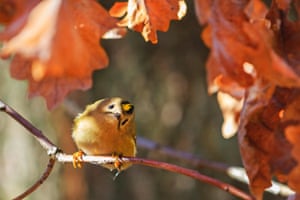 The goldcrest is the smallest European bird (via)
This perambulation among online resources started when I set out to send a picture-essay about the silversmith's studio to some friends ... and then I noticed the interesting links at the end of the article...
So here's the cascade of links to "interesting stuff" - hope some of it hits the spot for you!
Silversmith's studio - insight into tools and processes -
Pocket knife maker
Pencils!!
Art from tiny objects
DIY art therapy (book art)
Long article on recipes and their spread through social media
"
Recipes are such a ubiquitous technology, we sometimes take for granted just how much we have benefited from their diffusion.
"
Creativity helps you stay well [not news, this!]
"
We need to remind ourselves that creativity can be as simple as playing or doing things differently, so that we give ourselves permission to open the door to other activities and usher in all the benefits that come with thi
s
"
Wildlife wonders
(more links to "week in wildlife" compilations are at the bottom of that one)
And there, with the goldcrest and other natural wonders, we stop ... for now ...